October Mission Focus-Blessing Bags for the Homeless
Missions is offering us the opportunity to bless the homeless. You can help by bringing items October 1 - October 31.
Bunny Isaacs will provide the 2 - gallon Ziplocs for this. A date to assemble the items will be decided as needed.
Suggested items include:
Bottled Water (small or medium size) ……… Juice Boxes (small)
Crackers (cheese, peanut butter—2 or 3) Or small package of chips
Beef Jerky or Pepperoni Sticks
Granola or Cereal Bars (2)
Fruit Cups or Jell-O Cups (1)
Tuna/Chicken Salad with Crackers in small, easy open can (1 or 2)
Wet Ones (wipes) and Kleenex (small package)
Comb or Brush
Hand Sanitizer (1)
Small Deodorant or Body Spray, Or Hand Lotion (travel size)
Mouthwash, Toothpaste, Toothbrush (travel size)
$5.00 Gift Card (for the dollar menu from McDonald's, Wendy's or Burger King)
Small Size Devotional (The Upper Room)
Small Size New Testament Bible
Pair of Socks (women's or men's)
Small throw for cooler weather ………………Umbrella
Thank you so much for blessing those in need. Talk to Bunny or call the church office if you have questions.
Edge Park United Methodist Church
5616 Crowley Rd.
Fort Worth, TX 76134
t. 817-293-5140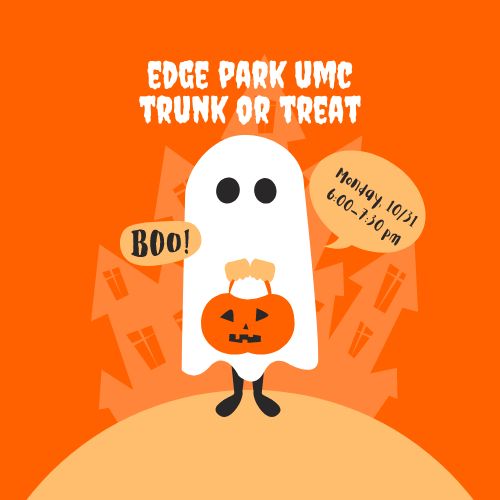 Trunk or Treat
October 31, 2022
6:00 pm – 7:30 pm
East Parking Lot
Hot dog snack supper provided to our neighbors
We are asking for various donations and people to help make this a success. If you are able and willing to participate and/or donate items we thank you. Items needed: candy / prizes, hot dog buns, weiners, individual size packages of chips, and canned sodas.

Our goal is to have 15 decorated trunks (either just decorations or even offer a game at your trunk) and serve 300 hot dog/chips/soda meals to our guests!

Please join us in this fun evening with our Edge Park neighbors!!!

Call the church office at 817-293-5140 or send an email to
epumc@edgeparkumc.org
, and let us know how you will be helping! BOO!